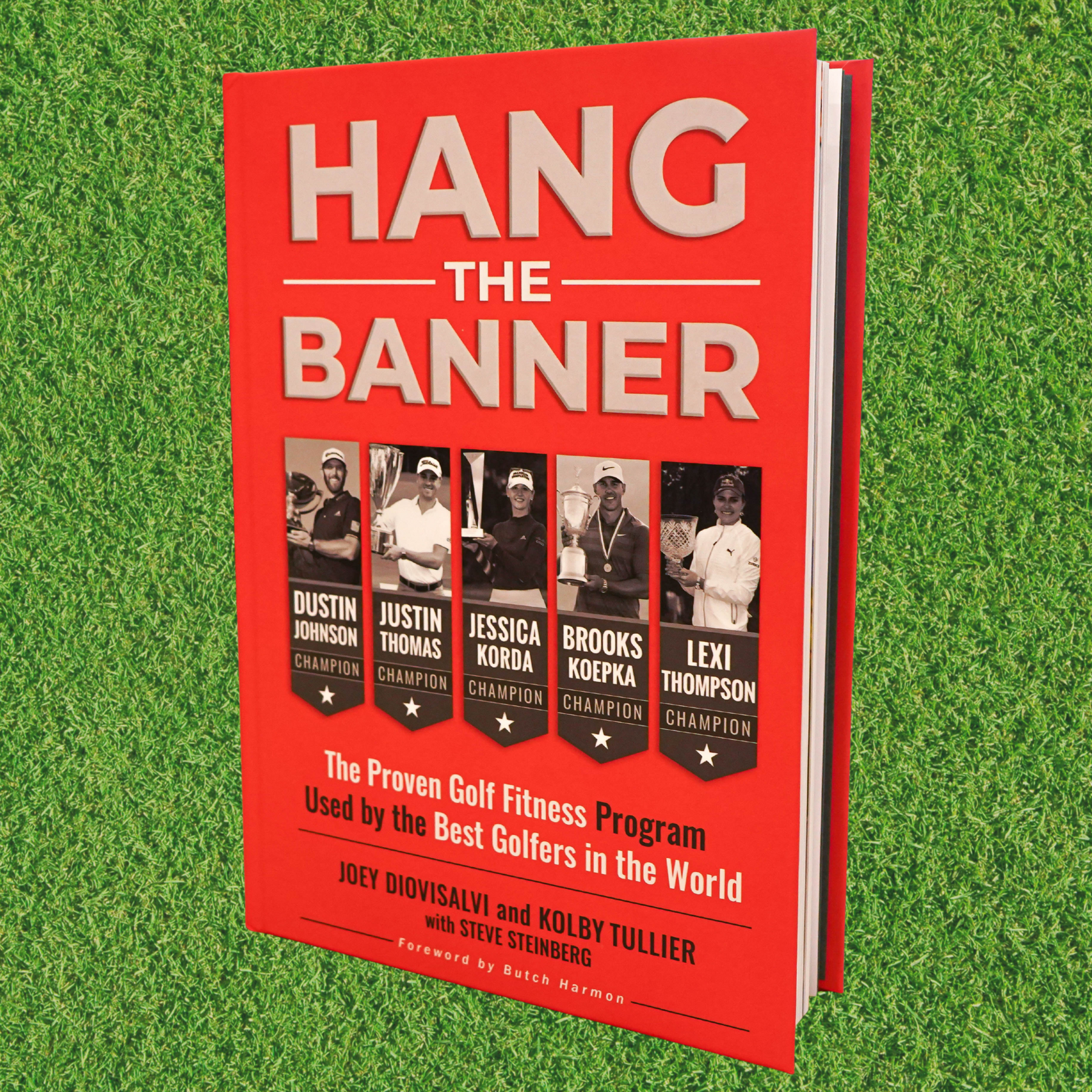 Hang The Banner - Hardcover
About Hang The Banner
"Coach Joey D" Diovisalvi and "Coach K-Wayne" Tullier have spent years optimizing the bodies, swings, and careers of the game's top PGA and LPGA Tour players and now — for the first time — their Tour-proven exercises, drills, and philosophies have been collected in a single volume to let anyone train like the game's elite players.
The walls of the Joey D Golf Sports Training Center in Jupiter, Florida are ringed with banners — each representing a Tour victory by a player who trains there. Each giant banner is a permanent tribute to the player who earned it and further proof of the unparalleled level of training being done at the facility. Currently, over 60 banners hang on the walls.
Hang the Banner takes golfers inside the minds and methods of two of the most sought after and winningest strength, conditioning, and biomechanics coaches in PGA TOUR history. They understand what it takes to help players reach their goals. And in Hang the Banner, they share their proven methods and fitness program to help golfers of all levels move better, feel better, and play better golf.
Hang the Banner Featured Content

A joint-by-joint, full-body approach to optimizing the body to swing a golf club, with chapters focusing on the ankle and foot, the knee, the hips, the spine, the neck and head, the shoulder, the elbow, and the wrist and hand.

 

Dozens of Tour-proven and clearly illustrated golf-specific

 

mobility, stability, and strength exercises.
A complete four-week training schedule to increase mobility and flexibility, improve balance and stability, and boost strength and speed.
A quick and comprehensive pre-round warm-up routine that will have you hitting the first tee like a pro.
First-hand accounts from the game's top players about how these same movements and exercises let them play their best at the world's biggest events.
Train Like the Pros
Hear from the top players in the world about how the same movements and exercises you'll be doing in Hang the Banner help them play their best at the world's biggest and most prestigious events. Hang the Banner takes you "inside the ropes" with PGA and LPGA Tour players like Dustin Johnson, Justin Thomas, Lexi Thompson, Brooks Koepka, Harold Varner III, Jessica Korda, Talor Gooch, Michelle Wie, Lucas Glover, and many more.
"The work I've done with Joey D has absolutely helped my game."- Dustin Johnson
"This is results-driven training with a purpose. If you're working with a swing coach or pro at your club, they'll thank you for doing the things you'll read about in this book." - Butch Harmon
"Great performance in any sport relies on great preparation. I've witnessed their work for years -- and the results hang on their wall. These two are masters of their craft."  - Wayne Gretzky